SillyMUD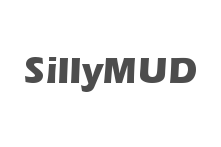 ---
Silly, despite its moniker, was a serious Diku distribution, introducing a vast array of features to enrich the user experience.
These features included things such as: player housing, equipment durability, more mortal levels (50 vs Diku standard of 29), full implementation of Dragon's Breath, smarter AI in combat, immunities, dozens of new skills and spells, an emphasis on alignment, and many others. Even attributes like the race of NPCs were emphasized (e.g. mobs of the same race would automatically help each other).

Like some other codebases, SillyMUD was a private MUD server first, and eventually released their source code to the public. Fortunately, this included many interesting, and original areas that never made it into other Dikus, with the exception of the DaleMUD codebase, itself an offshoot of SillyMUD.


Download latest build
Original Developers

---




J. Brothers, J. Sievert, K. McClelland, S. Gardner, R. Forsman, and P. Martin