TinyMUCK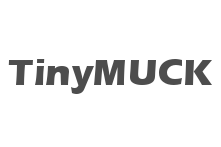 ---
The first TinyMUD derivative, and the first of Stephen White's inspired creations. On the heels of completing the ever-popular TinyMUCK, he went to immediately create another explosively popular codebase known as MOO which quickly morphed into the legendary LambdaMOO

TinyMUCK, although very much a Tiny-derivative, came with some fundamental changes to how things worked, particularly with the @link and @chown (no longer Wizard restricted) commands. MUCK also introduced the concept of "player-local commands" or "object actions", along with two new corresponding system commands @action and @attach.

MUCK was one of Tiny Trifecta, along with MUSH and MOO. It may have not spawned as many large derivatives as the other two, however, its importance cannot be denied in the Tinysphere.
Download latest build
Downloads
Version 2.4

tinymuck-2.4.tar.bz2
Original Developers

---




Stephen White
Remember, no matter how bad it gets, you can always go home.